Common Name: Amazon tree boa
Other Common Names: common tree boa, garden tree boa, ATB
Scientific Name: Corallus hortulanus (Full Taxonomy)
Group: Boa
Origin and or Range:
Found in South America in southern Colombia east of the Andes, southern Venezuela, Guyana, Suriname, French Guiana, Amazonian Brazil, Ecuador, Peru, Trinidad & Tobago and Bolivia. The type locality given is "America." Relative Size: Average Arboreal 5 TO 6 Foot range and very slinder bodys (as compared to other snakes)
Average Lifespan 15 to 20+?? year(s)
Activity level:
Nocturnal and arboreal species, As nocturnal reptiles, Amazon Tree Boas are inactive during the day. Amazon Tree Boas are aggressive and very alert animals.
their constant heightened level of alertness, they are prone to striking and biting..

(Note: from my experience with these if you have to handle this snake best time to do so is during the day time hours the snake is groggy and kinda out if it and less likely to strike compared to doing it at night when there fully alert and waiting for prey to pass in front of them.)
Description:
Adults grow to an average of 5 and 6.5 feet in length. Temperament depends on the individual. Some are very docile when handled, whereas others are more aggressive and pure EVIL!! .
very thin body and a large, triangular-shaped head with long, sharp teeth and large, bulging eyes. colors from black, brown, or gray, to literally any shade of red, orange, yellow, or any color in between. Some totally patternless, while others may be speckled, banded, or saddled with rhomboid or chevron shapes. Some reds will have yellow patterns, some yellows red or orange patterns.

'garden phase' refers to boas with drab coloration, mostly brown or olive, with varied patterning, while the 'colored phase' refers to animals with combinations of red, orange, and yellow coloring.
Vivarium/Caging :
Amazon Tree Boas require a habitat with very high humidity. So, they need a terrarium that can retain humidity. However, the habitat must also allow for adequate ventilation to help prevent fungal and bacterial growth, which can lead to illness. A glass terrarium or aquarium with a partially screened cover works well for this species. Accustomed to life in the trees, these arboreal animals also require a lot of vertical space with plenty of levels and places to climb and perch.
Perches like branches, vines or other plants should be criss-crossed to form forks in which the snakes can lie. Wooden dowels, driftwood and other pieces of wood with nooks or flat surfaces also work well with Amazon Tree Boas (I have used real live small to medium ficuss trees and they work very well help retain humdity and are naturalistic decor) .
Due to their aggressive behavior, Amazon Tree Boas should be housed separately or in 1.1 mating pairs. minimum of 24 inches X 36 X 24 for a breeding pair, although it is probably a good idea to get something a little larger so that you can work around them when feeding etc
Humidity/Hydration: Humidity is very important for all reptiles, Relatively high cage humidity should be provided these boas. Live plants can add beauty to a cage and also help elevate humidity. Baby Amazon tree boas can be maintained in a 5 to 10 gallon capacity terrarium. Adults should have a terrarium of at least a 20 gallon capacity and a 30 to 50 gallon size is probably better.

A temperature gradient of 75 to 88 degrees Fahrenheit should be provided. Although they do not always climb, horizontal perches of about the same diameter as the snakes body and climbing space should be provided. Amazon tree boas will usually choose a forked branch on which to coil. When the snakes are in elevated positions they usually anchor themselves with their prehensile tail.

**Dehydration can result in regurgitation or refusal to eat.** (helpful tip: i used a plastic realistic water croc drill a hole at a angle with a power drill install a fish tank pump air hose thru the hole with a air stone on it and connect it to the air pump its self this will help maintain humidity.
Promote the snake to come down and drink sence dehydration with them is a problem and it also seemed it helped them to poop better from the bubbles massaging there who ha i use this same tach tic with all lizards as well and it works very well)
Shedding/Temperature/Climate:
Amazon Boa's will normally shed without difficulty so long as the humidity is kept at an optimal level.
80-85 F by day, 75-78 F by night. It is recommended to mist the enclosure at least twice daily, bringing the humidity up to 80-90% or higher.

Food/Prey:
In captivity, they can thrive on pre-killed rodents, such as mice and rats of proper size. Prey should be no wider than the widest part of the snake's body adults once every 10-14 days. Feed Juveniles once every 5-7 days. In nature, Amazon Tree Boas feed on small mammals, birds, and the occasional lizard.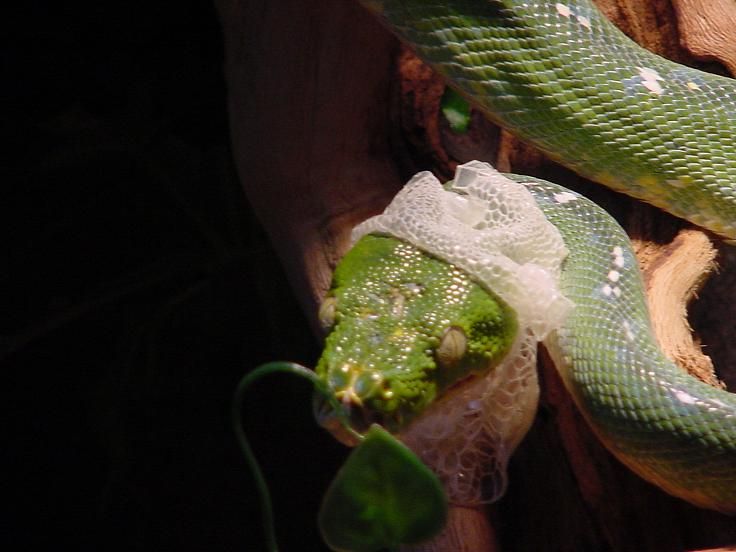 Reproduction:
Live birth , Ovoviviparous Producing an average of between 1 and 12 young at a time, sometimes even more. Litters exceeding these numbers are extremely rare.
Summery:
A majority of the Amazon Tree boas today are imported from Colombia and Suriname. While being easer to care for than Emerald Tree Boas, Amazon Tree Boas are still a minority in captive collections due to their behavior, amount of care needed, and lack of color compared to Emerald Tree Boas. Imported and wild-caught animals are often irritable, under stress, and take a long time to settle into a captive environment.
They can be difficult feeders preferring small reptiles, frogs, and birds as prey. A captive raised specimen that is already feeding on mice is the better choice. In a nut shell . Despite their unfriendly disposition, Amazon Tree boas are beautiful display animal for the advanced keeper even in the simplest of cages. They are often sitting in direct view and rarely seek out a secluded hiding are once adjusted to their home.
Written by boaholic on Fri Oct 22, 2010
Distribution
The Haitian Boa is a fairly large snake native to the West Indies. While wild-caught specimens are usually moderately aggressive, they can become quite docile with regular handling. Unfortunately, it is difficult to feed young captive born Haitian Boas and, as a result, they are not commonly available.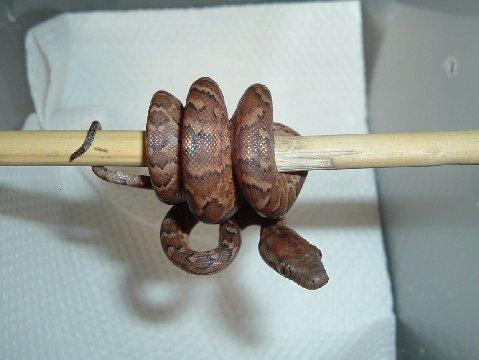 The Haitian Boa usually lives in damp, wooded regions. They are nocturnal, meaning they are active at night. During the daytime, they rarely move and when they do, they move very slowly. Mature Haitian Boas feed primarily on rodents and birds. The juvenile snakes feed only on small lizards. They are primarily arboreal, spending most of their time in trees. Haitian Boas will, when frightened, emit a foul smelling musk from their anal glands. While wild-caught Haitian Boas are usually somewhat aggressive and nervous when first caught, they can become quite docile once they are accustomed to their surroundings and used to being handled.
Averaging between six and seven feet, the Haitian Boa is a large snake. Some specimens have been recorded at nine feet or more. They have slender, agile bodies that are well suited for climbing trees. Their skin is usually tan or gray with dark brown blotches that are often edged in black. The blotches are sometimes in a chain pattern. The head exhibits a dark line directly behind the eye.
Handling :
When it comes to handling your glades most are if all WC so most will come ready to take aim while other are calmer.after you work with them abit they calm right down.But each snake is different some might never change from trying to take your face of every chance they get to some can be the calmest snake you own.
The Haitian Boa is found on the island of Hispaniola in the West Indies. It is a subspecies of the Bahama Boa, which also includes snakes from Cat Island, Ragged Islands, Margaret Cay, Andros and the Berry Islands.
Specific Care Information:
Relative Care Ease: Average Haitian Boas are large snakes that require a large, tall enclosure. They should be provided with branches to climb on. Temperature and humidity levels should tropical.
uveniles are notoriously difficult to feed in captivity. Some hobbyists suggest raising humidity in order to promote feeding. Breeding and Propagation: Relative Breeding Ease: Average While Haitian Boas have been bred in captivity, it is not common. Mating is more likely when more than one male is present.
The snakes mate in winter and early spring. Haitian Boas give birth to live young, usually about six months after mating. They usually have around 15 babies, but some have upwards of around 40. Still births and infertility are common problems. Feeding the captive offspring is usually the biggest challenge as they will only eat small lizards.
Written by boaholic on Fri Oct 22, 2010